<< August 2011 >>
Categories
Sign up to be emailed when new events are announced.
"Confessions of a Bad Beekeeper" Event with Bill Turnbull
Bartram's Garden
Tue, Aug 2, 2011, 6pm - 9pm
Tickets: Free for Bartram's Garden & Philadelphia Beekeepers Guild members; $5 lecture: $15 lecure & tour
The Philadelphia Beekeepers Guild and Bartram's Garden
cordially invite you to attend a special Twilight Tour with Bartram Curator Joel Fry
and Talk with Author and Beekeeper Extraordinaire Bill Turnbull
Tuesday, August 2, 2011
Bartram's Garden
54th Street & Lindbergh Blvd. in Philadelphia
Seasonal Refreshments & Honey will be served
6 to 7 pm : Twilight Tour of Bartram's Garden with Curator Joel Fry. Learn more about the history of beekeeping at Bartram's Garden, plus the busy work of pollinating insects and the plants they love in the Garden!
7:30 - 9 pm: Author Bill Turnbill presents his latest book, Confessions of a Bad Beekeeper. Q&A with the author and book signing to follow.
This event is free for members of Bartram's Garden and the Philadelphia Beekeepers Guild. Ticket price for non-members: $5 for talk; $15 for talk and Twilight Tour.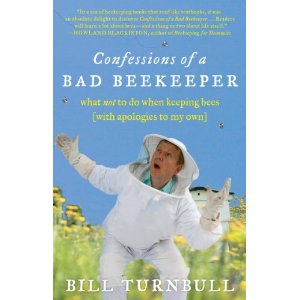 More about Confessions of a Bad Beekeeper:
Like almost any suburban-dweller with a job, spouse, and kids, Bill Turnbull had not intention of becoming a beekeeper. But when and advertisement for beekeeping classes appeared in the family vet's office shortly after a swarm of bees landed in Bill's backyard, it seemed to be a sign. Beekeeping was an even stickier operation than Bill realized, though, and as he quickly learned, just because you are passionate about something doesn't mean you'll be virtuoso. Full of laugh-out-loud antics, lessons learned the hard way, and a passion for the beauty and importance of the infuriating, fascinating--and increasingly threatened--honeybee, Confessions of a Bad Beekeeper is a story about the transformative power of doing what you love--even if you're bad at it.
Bill Turnbull is President of the Institute of Northern Ireland Beekeepers, public ambassador for the British Beekeeper's Association, and does beekeeping demonstrations at agricultural shows throughout the U.K. He lives outside of London.
Location:
Bartram's Garden is located at 54th Street & Lindbergh Blvd.
For more information
Visit
Contact:
Kim Massare 215-729-5281 ext. 112 kmassare@bartramsgarden.org